Summary:
The Port Authority of the Bay of Algeciras (APBA) participates in the VIPE project, focused on developing a tool for managing the risk and vulnerability of port infrastructure through the application of Synthetic Aperture Radar Differential Interferometry technology (DInSAR for its acronym in English) and artificial intelligence algorithms.
The project, which has a grant from the Ports 4.0 open innovation capital fund of Puertos del Estado in the category of pre-commercial projects and has an execution period of 24 months, is being developed by the start-ups Detektia and Deep Insight, two spin-offs of the Topography and Geomatics laboratory of the ETSI Caminos, Canales y Puertos of the Polytechnic University of Madrid. Likewise, the Port Authority of Huelva and the Port Authority of Castellón participate as development environments for the use cases.
The general concept consists of the development of a multidisciplinary web service for the management of the vulnerability of the port infrastructure based on its failure modes (slip, overturn or collapse) through the monitoring of the state of the infrastructure with the treatment of satellite images, thanks to DINSAR technology, which allows obtaining deformations of any point on the planet with millimeter precision, without the need for ground instrumentation.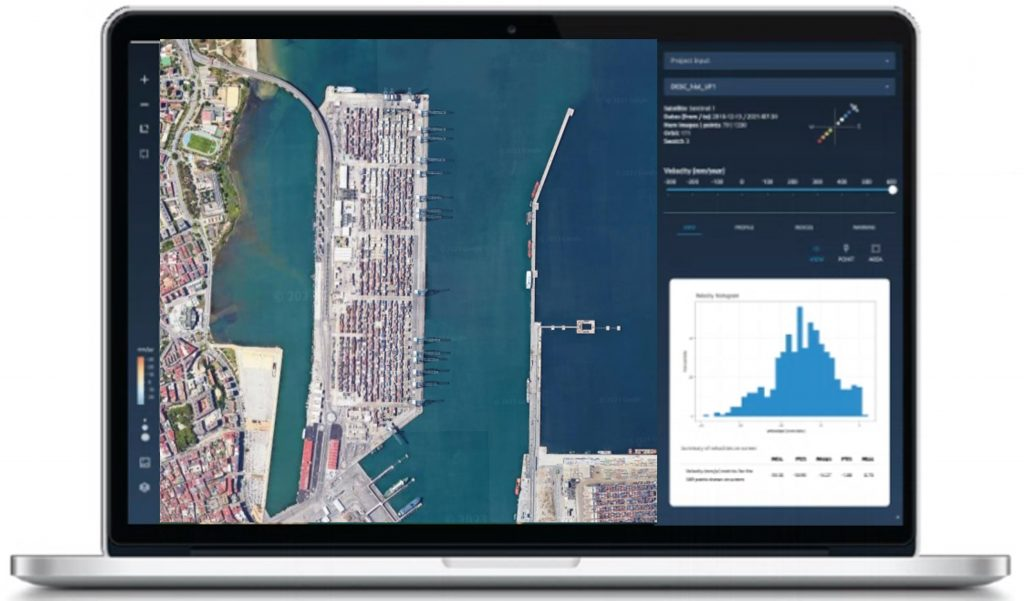 The collaborators will work together to determine the best deployment in the IT infrastructure of each port and to develop the key functionalities of the tool, among which will be:
Provide threshold information on structural vulnerability indicators.
Provide a record of the historical progression of exceeding structural vulnerability threshold.
Offer temporary monitoring of events related to the state of the infrastructure,a s well as a repository for logging events and providing additional information.
Advanced analytics to correlate meteo-oceanic time series with recorded events.
Expected results:
The improvement in risk, vulnerability, safety and protection management of port infrastructure.
The optimization of preventive maintenance of port facilities.
The digitization of the processes related to the monitoring and control of the state of the port infrastructure.
A better understanding of the effect of meteo-oceanic conditions on port infrastructure.