The Port of Algeciras became winner of the 12th edition of the ESPO Award 2020. The European Transport Commissioner, Adina Valean, revealed the jury's verdict during a virtual ceremony held by ESPO. With this award, the European institution acknowledges the role of APBA concerning the promotion of integration of innovative companies and local entrepreneurs in the port industry.
Adina Valean emphasized the importance of the ports of the European Union in keeping a balanced logistic chain during the hardest months of the Covid-19 pandemic. The Commissioner also urged ports to continue working in order to achieve sustainable development. This prize acknowledges the role of European ports as driving forces for innovation and social integration. Specifically, this year's edition sought "to encourage local entrepreneurs and companies to take part in the port ecosystem with the goal to boost relations between ports and their environment".
As the winner of this award, APBA introduced their "Innovation Journey", that is, their culture and innovation management program. Through this programme, the port institution runs multiple activities for university students, port employees, entrepreneurs, start-ups and technology SMEs. It realises contests and prizes for innovating ideas, and it provides companies with port facilities to test their proposed solutions, within the framework of the initiative
"Algeciras Port Living Lab".
The Chairman of APBA, Gerardo Landaluce, thanked ESPO, the representatives of the other ports participating and specially, APBA's Technological Development Department and the Technical Innovation Office managed by IDOM.
He thanked them for their good work over the last few years to reinforce the innovation culture in the Port of Algeciras".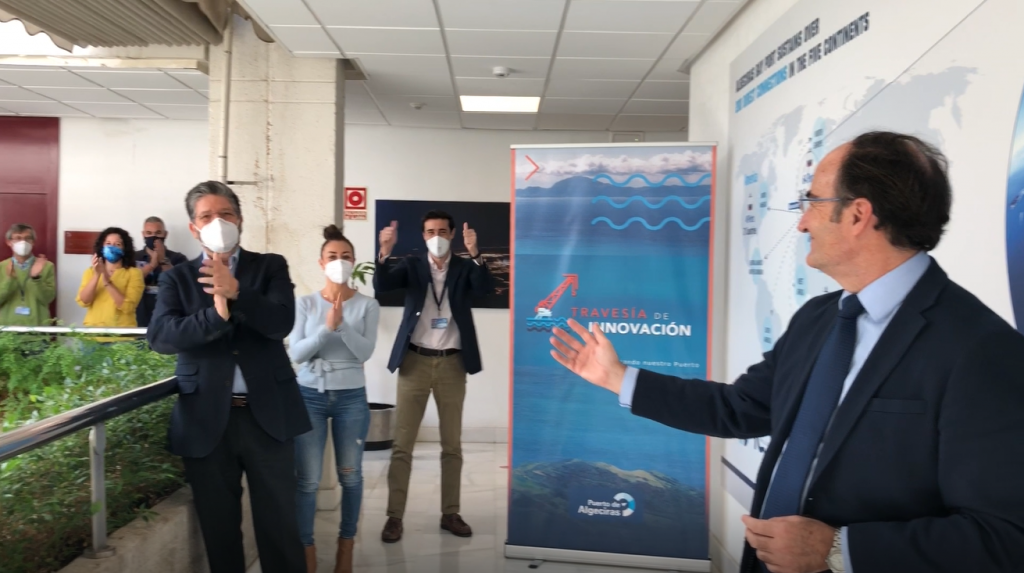 The project "Ports 4.0" by Puertos del Estado (Spanish body within the Ministry of Transport), and the proposals presented by the ports of Amsterdam and Lisbon were selected finalists by the jury in this 12th edition of the ESPO Award 2020 for the Social Integration of the Ports. The ports of Oulu (Finland), Thessaloniki (Greece) and Rotterdam (Netherlands) participated as well, among others.