The Port of Algeciras was present at the Conference of the Society of Software Engineering and Software Development Technologies (SISTEDES), organized by the Computer Graphics and Data Engineering group of CiTIUS (Singular Center for Research in Intelligent Technologies of the University of Santiago de Compostela), which took place from 5 to 7 September at the Hotel Oca Puerta del Camino de Santiago de Compostela.
The conference, an annual meeting focused on three major areas of computer science: Software Engineering and Databases (JISBD, the largest), Science and Services Engineering (web services, JCIS) and Programming and Languages (PROLE), brought together in the city of Santiago de Compostela more than 240 researchers from the most important research groups of Spanish universities, as well as students and representatives of companies and the public sector.

The symposium, which started on Monday 5th with the official opening ceremony, attended by the President of the Provincial Council of A Coruña, Valentín González Formoso, and Antonio López, Rector of the University of Santiago de Compostela, included three plenary lectures (one per area), given by internationally renowned researchers: Robert Feldt (JISBD), Professor of Software Engineering at Chalmers University of Technology, Gothenburg (Sweden); Uwe Zdun (JCIS), Professor of Software Architecture at the Faculty of Computer Science, University of Vienna (Austria); and Manuel Hermenegildo (PROLE), Professor at the Polytechnic University of Madrid and Distinguished Researcher at the IMDEA-Software Institute.
For its part, the APBA, through Francisco Saucedo, Head of IT Architecture, and Alberto García, Technology Solutions Architect at Getronics, participated in the session "Engineering and case studies", included in the block of Science and Engineering Services (JCIS), and in which it presented its "Corporate Platform for Systems Integration of the Port Authority of the Bay of Algeciras".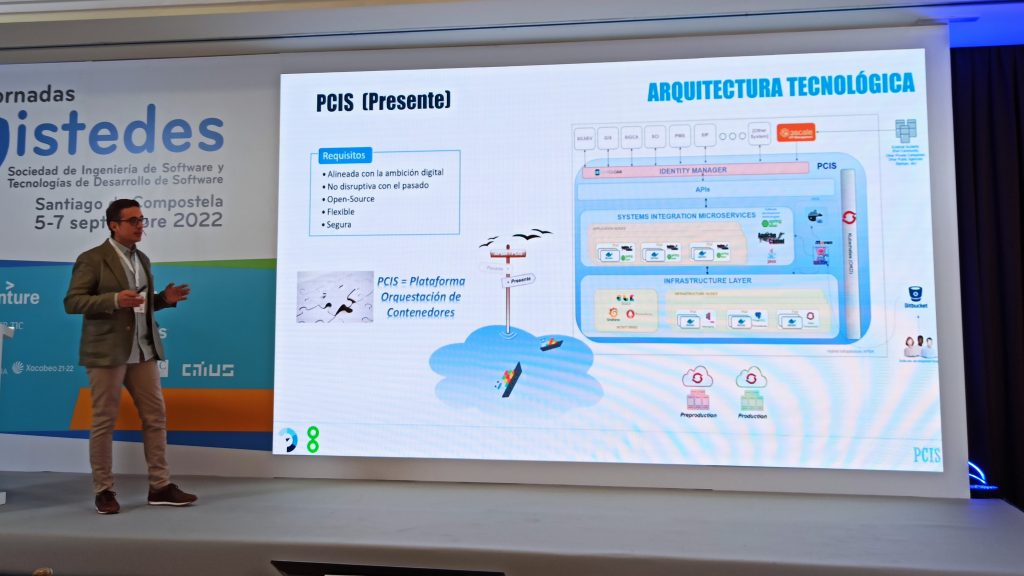 During the meeting, the Port Authority team highlighted the organization's objective of establishing itself as an efficiency partner for its Port Community and its customers, with the integration of data and processes being at the base of this strategy. To this end, the APBA has implemented the Corporate Systems Integration Platform (PCIS), which serves as a skeleton of effective and efficient integration for business applications that support the logistics-port processes, in order to meet the Port's digital ambition. Saucedo remarked that it is an initiative that includes not only technological elements, but also a governance model in a multi-supplier context, governed by the Public Sector Contracts Law (LCSP), and with several software development teams working in parallel.
In addition to the presentation, APBA has contributed to the initiative with the publication of an article related to its PCIS, which can be found in the SISTEDES Digital Library.

Throughout SISTEDES 2022, a total of 154 scientific papers were presented to the expert research community in these topics, which responded with great interest to the meeting, increasing participation with respect to other editions (both in number of attendees and proposals submitted).