The Innovation Committee of the Port of Algeciras has started today with the opening of the deadline for companies and institutions to transfer their interest in belonging to it. This was announced this morning by the Head of Innovation of the Port Authority of Algeciras (APBA), Jesús Medina, during the Conference 'Opportunities, towards Innovation' which was held in the auditorium of the APBA, the Millán Picazo. Companies interested in joining the Committee should send their details to innovacion@apba.es before 1st of May.
As Medina explained, the aim of the initiative is to identify common industry challenges, evaluate innovative solutions, support innovation generated in the region and accompany it, as well as identify ways of collaboration and funding mechanisms. "This is a historic event", said Medina, "because despite the work we have been doing, with this Committee we are taking another step forward to innovate in a more orderly and coordinated way with the agents of the Port Community".
The Innovation Committee will be headed by a chairman. It will have a secretary, members, expert advisors and guests and coordinators for each specialised committee, members who will be appointed in June, when the first quarterly meeting will be held. This meeting will also establish the basis for its operation and will close the working groups of the specialised committees in areas such as container, industrial, ro-ro and passenger, rail, sustainability and bay services.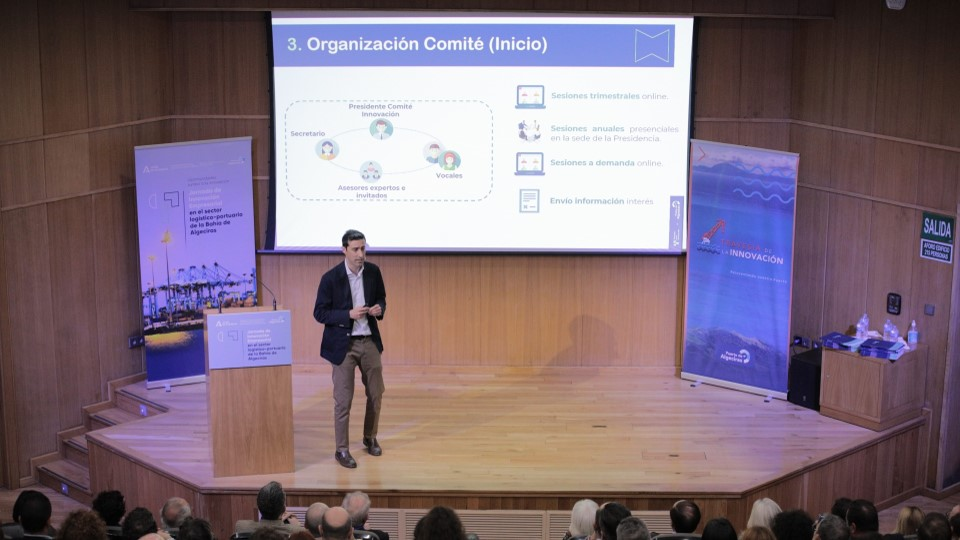 At the opening of the conference, which was attended by the provincial delegate of the Junta de Andalucía in the province, Mercedes Colombo, and the delegate of Economy, Finance, European Funds, Industrial Policy and Energy of the province, Inmaculada Olivero, the president of the Port Authority, Gerardo Landaluce, highlighted the role played by Innovation both as a tool for resilience and as "one of the transversal lines of work on which both our income situation and the good work of our strong port community are based".
The conference was organised by IDEA – integrated in the TRADE Agency – through the provincial delegation of Economy, Finance, European Funds, Industrial Policy and Energy, in collaboration with the APBA.