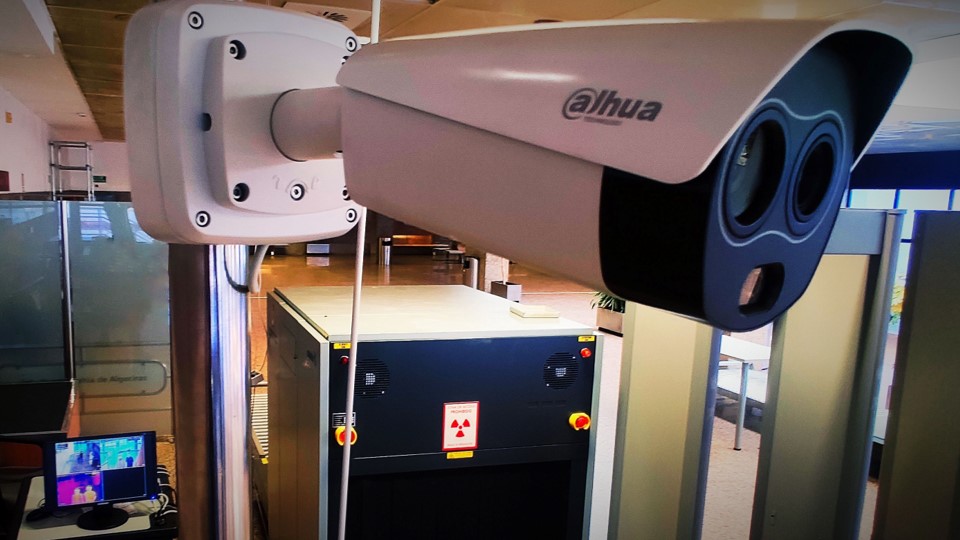 The Port of Algeciras Bay Authority (APBA), has installed thermal cameras in the areas of greatest passenger traffic in the Port of Algeciras, a project that is proposed as a pilot at the technological and operational level. In this way the dock of the Strait, which every year assumes a transit of more than four and a half million passengers, prepares the increase of the security of its clients and workers for the moment in which the maritime station recovers its habitual connections of passengers with Ceuta and Tangier Med (*). The system is operational in tests in the boarding area to Ceuta of the passenger terminal of Algeciras, where every day the residents of Ceuta embark authorized by the Government Delegation in the Autonomous City.
This pilot project is possible thanks to the agreement reached between the port institution, the specialized consultancy in Communications and Security XAIVO, and DAHUA Technology, a multinational company for video monitoring solutions, with the aim of introducing technologies that allow the prevention of the spread of COVID19 or other future pathogens through the detection of two factors: the body temperature of people in transit, and the capacity in crowded areas and situations of concurrence.
This measure adopted by Port Authority is based in a system implementation capable of detecting risk infection by monitoring anomalies in body temperature (fever) in a constant people flow, quickly (automatically and without transit interruptions), with a high precision to avoid false positives or negatives (±0.3°C) and contactless (protecting control staff from infections), combined with another system for monitoring people flow, to determine the risk level of infection in case that a fever alarm is notified.

Once implemented, Port Protection staff (which operates in different port areas), with their hand terminals connected to broadband radiocommunications private port network managed by APBA (Radio Communications Advanced System orSACR), will receive alarms of potential sick or infectious person (according to the limit value stablished as normal body temperature), so thanks this quickly and adequate information, effective protocols could be taken to prevent virus propagation.
The systems implemented for body temperature monitoring and volume of people tracking, using SACR for information transfer to control staff, regardless its location and movements throughout the APBA area, will help to prevent pathogen propagation and bring security to passengers and employees.
 (*) In the current state of alarm the Port of Algeciras has no passenger traffic with either Ceuta or Tangier, except for cases of force majeure authorised by the Government Delegation in the Autonomous City. Updated information: https://www.apba.es/en/news/PORT-OF-ALGECIRAS-STATEMENT-DUE-TO-COVID-19