Summary:
The project is part of the objective of the Port of Algeciras to become a Hub for Digitalization and Logistics Innovation and, specifically, within the set of technological projects that will allow to possess an Advanced Digital Platform for Port Orchestration. The project is developed in collaboration with the start-up NextPort, invested by the American engineering company Moffatt & Nichol and specialized in the application of digital twins and artificial intelligence to port operations.
The scope of the project consists of the development of a digital management and decision support tool, self-contained and with real-time visualization, simulation and advanced analytics capabilities that adds value to the set of actors from a neutral, central and holistic position (advanced digital control tower).
The platform will be able to analyse future operational scenarios, predict events and forecast the impact on operations and, finally, be capable of prescribing/recommending actions that maximize the creation of port value of Algeciras.
To this end, the set of information systems and current digital operational management platforms will be connected, so that data from the different sources of information can be obtained and the decision domains are thus interconnected, enabling the improvement of efficiency, security, resilience and port sustainability.
Additionally, the platform will contain simulation, emulation and artificial intelligence technologies, to (1) simulate discrete events of new conditions and thus obtain indicators about the performance of operational strategies, (2) replicate the real behaviour of the Port and obtain a context map and operational awareness and (3) learn from the past, detect behaviour patterns and predict future scenarios.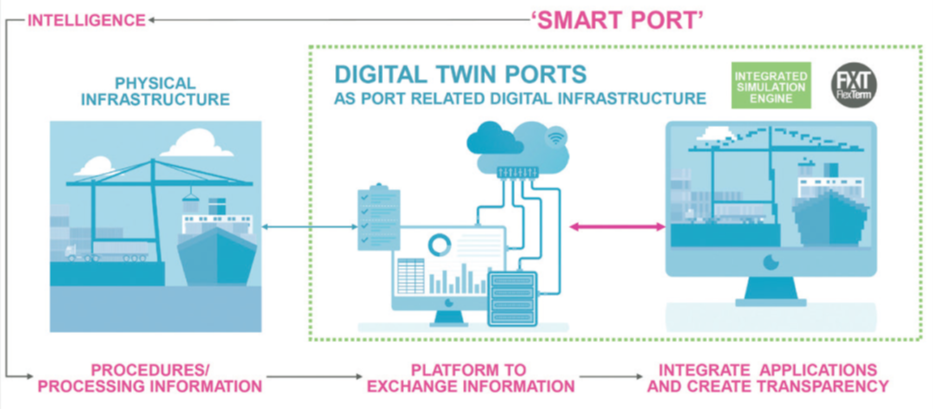 Expected results:
Reduction of the dwell times of the different transport modes, catalyzing synchromodality and optimizing performance, productivity, costs and emissions generated.
A digital management of port assets, which allows the improvement of resource allocations, minimizes idle times and maximizes their use.
Compliance with environmental regulations and frameworks to support the decarbonization of maritime logistics.
Greater transparency and digital collaboration between the different stakeholders of the logistics chain.
Value creation for port actors and the empowerment of the Port Community by providing efficiency, flexibility and resilience.