Summary:
Currently, operational processes that sustain world trade and logistics chains feature a high inefficiency rate, as well as a huge reliance on paper-based document processing: witness examples of such inefficiency in typical cargo delivery times, missing cargo and orders, or lengthy down-times at ports, terminals and logistics warehouses, together with inconsistent and outdated information, all of which entails high cost and poor service quality.
In the specific example of the container value chain, various improvement opportunities have been identified by container industry leaders and top players to this end: i.e., by increasing cargo transparency and visibility levels on its way through logistics hubs and facilities; by improving coordination between agents; by promoting formulas that enable data-sharing; by improving the predictability of logistics chains; and, most relevantly, by seeing the need for industry-wide agreement and standardisation, both at data/event and interoperability levels between digital management systems.
So far, staff at the Port of Algeciras Bay have identified several areas for improvement that should contribute to optimising import-export processing of containers on their way through our port by offering visibility to the cargo flow and data-sharing among local players.
It was in this context that the aims of our pilot project were focused on improving real-time container flow visibility and tracking on their way through our facilities at the Port of Algeciras Bay by trying to minimize the down-time of all the players and agents that take part in the container value chain.
This is how the PortCDM idea came to be applied to our land operations.  It reaches our hinterland to such an extent that even depots, import-export businesses, shippers, in-house and outside terminal operators, shipping lines, customs agents, consigners and consignees, freight forwarders, our own Port Authority and BIP, among others, came to apply the technology.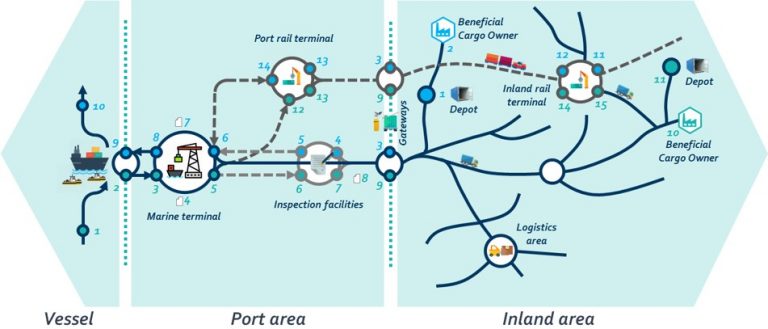 Port Collaborative Decision Making is an idea that takes its inspiration from the aviation sector, where flights and airport operations are so successfully and seamlessly coordinated, enabling everyone involved in the call-to-port process to share real-time (or almost real-time) data about significant events.
The scope of the project was divided into two parts: firstly, with the help of GS1 Spain, we did an in-depth breakdown of port-logistics processes that are involved in an import-export container's journey through our port, and proposed a standardisation for the main events related to container logistics.  Secondly, we developed and implemented a collaborative real-time data platform for all the players that intervene in the Port of Algeciras Bay's container value chain.

The development of the prototype software was carried out by using a prototyping cell following Scrum framework methodology, all of which required eight fortnight-long sprints. We then did a proof of concept test by linking up several Port Authority operating systems, as well as a container terminal's (TOS), a customs agent's and a shipper's operating systems to our prototype.  Finally, the pilot test was done over two phases in May and June 2019, enabling us to monitor a total of five export container shipments of 35 containers in real time.

Once the project had been finalized, taking into account the consultancy and development phases, we proved that a project like CVCH is essential for use as part of players day-to-day business when involved in the Port of Algeciras Bay's container industry.
In this light, the following are the conclusions that we came to:
Most of the players' initial needs and inefficiencies throughout the value chain process could be solved by providing a visibility and transparency of the events associated with the cargo flow through our port by sharing real-time data.
Sharing the most relevant data in case of event changes may help anticipate decisions and re-plan operations with minimal consequences, such as additional costs.
This kind of digital solution, such as our prototype platform, can help logistics supply chains become smarter by increasing their predictability, transparency, and throughput and delivery speeds.
Digital solutions help fine-tune value chains continually and in real time.
We have confirmed that such a solution, together with PitStop or Pronto type platforms enable an end-to-end visibility of the cargo's journey through a port and throughout its logistics chain.
Video demonstration: