The Port of Algeciras, represented by Jesús Medina, Head of the Technological Development Area, actively participated in the seventeenth edition of the World Conference Cities & Ports, organized by the NGO AIVP in Tangier (Morocco).
The event, entitled Inspiring Blue Futures and held at the Hilton Al Houara Resort from May 11 to 13, brought together institutional representatives of cities and ports, as well as other actors related to the sustainable development of port cities, constituting a unique opportunity to discuss the challenges, get inspired and establish strategic contacts to promote projects related to the blue economy.
It was on Friday, when the APBA participated in the session entitled "Preparing human capital for the Blue Economy: New jobs and education" focused on analyzing how investment and innovation in the different sectors of the Blue Economy will generate new demands for human capital and knowledge requirements. In addition, it was possible to see how leading ports, such as Tangier Med or Algeciras face these new training demands, how they prepare the professionals of the future and how they establish new partnerships with knowledge centers to foster innovation.
The speakers who accompanied Medina in this session were Maurice Jansen, Researcher and Head of Business Development at Erasmus University Rotterdam, Tarik Dourasse, Director and Head of Internships at Tangier Med and Abdelhakim Jennane Director of Human Resources at the National Agency of Moroccan Ports (ANP).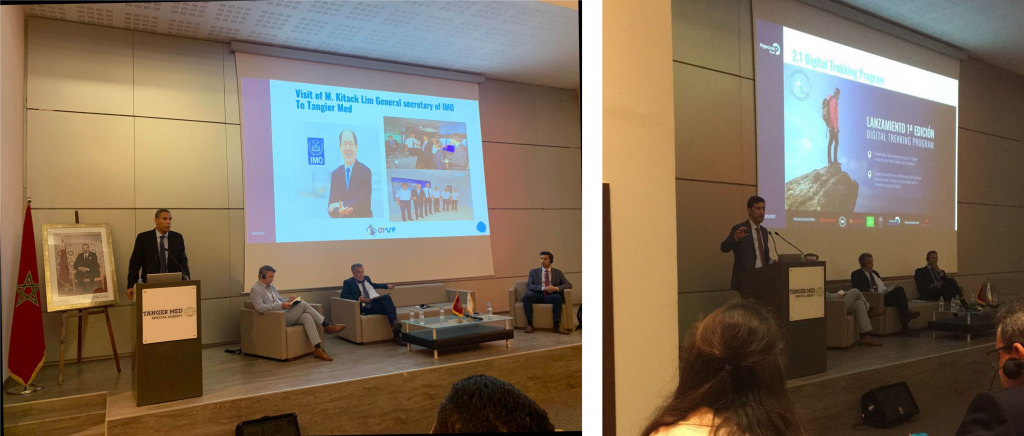 AIVP's objective is to improve the relationship between the city and the port in the context of mutual cooperation for a more sustainable, responsible and innovative urban, port and economic development, placing the citizen at the heart of its action. For it, the port city, as an actor of globalization, is a laboratory of the city and the economy of tomorrow and where innovation must be encouraged.
With the concept "Inspiring Blue Futures", AIVP wanted to highlight the importance of port cities in this mission and in the future of our societies, our economy and our environment.
Throughout the three days, it was possible to see how these Blue Futures will be characterized by innovative solutions for the decarbonization of logistics chains and port cities, based on alternative fuels and electrification of infrastructures, marine renewable energies, digitalization or even carbon capture based on aquatic nature (the best carbon sinks are wetlands and seabeds). It also addressed how Blue Futures will require new approaches to natural habitat restoration, sustainable coastal tourism or food systems, including aquaculture and sustainable fisheries.